The Clover Station Duo credit and debit machine, now available in Canada, features a large 14″ full HD touchscreen display and a 7″ customer display that can accept chip, swipe and contactless payments for credit and debit card payments. The card terminal also comes with a high-speed thermal printer and customizable set ups for retail stores and restaurants. Manage your business with an All-In-One point of sale payment solution and time saving apps that will elevate your business to the next level.
Connect the Front & Back of your Business
Quickly send orders to your kitchen as soon as they are placed – and be able to modify them even after they have been sent.
Modify your customers' orders with ease with customized options like "extra pickles" or "sauce on the side". Also, you can save orders for each guests and come back to it when they are ready to pay. 
Got a special order request that is not on your customized options? You can notes to any order to ensure accuracy and prevent wasted food!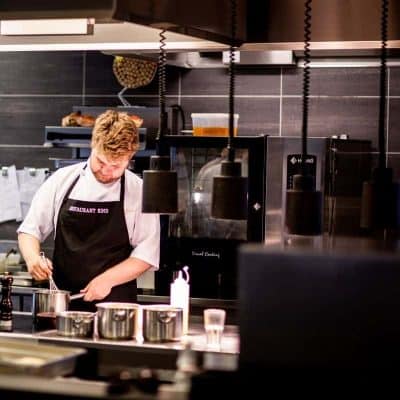 Accept payments and run your business from one point-of-sale (POS) system. The Clover Station Duo Canada edition is the point of sale and business management system for merchants that want to simplify and centralize payment acceptance, customer engagement, and operations management using one integrated device.
Deliver top-notch experiences at check out with the Clover Station Duo. Whether you're promoting a loyalty program, providing customers with donation options, or making it easy for them to review their order. Station Duo's terminal is an intuitive and powerful feature to drive engagement and your counter.
Avoid slowing down rush lines from voids and product returns due to errors. Empower your customers with real-time information on the Clover Station Duo to ensure order accuracy, increase loyalty program usage, and conveniently enable mobile wallets.
Increase Business Operation Speed
Clover Station Duo can process payments in under 3 seconds, encourages NFC (contactless) payments, and displays order information with loyalty programs. Get your customers serviced with an intuitive and convenient payment solution.
In addition to contactless debit and credit card payments, you can also offer contactless payments with Apple Pay, Google Pay, WeChat Pay and Alipay.
Increase Customer Loyalty
Launch a loyalty program for your business with the Clover Station Duo Canada solution. Create a loyal following, increase customer sign ups and drive repeat business at your store.
Clover Station Duo works effortlessly with other Clover products such as the Clover Flex and Clover Mini card terminals. This allows your business the flexibility to move beyond the counter, into the aisles and on the go wherever your business demands.
Clover Station Duo Canada edition is PCI PTS 5.0 PED certified and P2PE ready. It also features Clover security, end-to-end encryption and data tokenization with each transaction to protect you and your customer's data.
Watch the Clover Station Duo in action!
24/7 Clover Dashboard Data Access
Login to your Clover Dashboard, using your computer, iOS or Android phone to track sales, update inventory, edit business information, manage apps and more! Our All-In-One solution will solve problems that you have with scattered set ups.
| | |
| --- | --- |
| Software | Android (AOSP) 8.2 (API level 27, Oreo) |
| Processor | Qualcomm Snapdragon 660 octa-core processor |
| Memory | 2GB RAM, 16GB Flash |
| Connectivity | Ethernet, Wi-Fi, 4G/LTE (with optional data for additional connectivity) |
| Camera | 5 Mega Pixel on both displays for 1D and 2D barcode scanning |
| USB Device Ports | 4 |
| Cash Drawer Ports | 2 |
| Merchant Facing Display | 14.0", 1920x1080 TVDPI (160ppi) |
| Audio | Speaker and Microphone |
| Fingerprint Reader | Yes, log in for up to 50 employees |
| Customer Facing Display | 7.0" 1280 x 800 TVDPI (213ppi) for improved order accuracy, customer engagement, loyalty program facilitation, and more. |
| Terminal Pay Functionality | EMV chip card reader (insert), NFC reader (tap)and MSR reader (swipe) |
| Audio | 3.5mm audio jack (with L/R output and mic input), speaker and microphone |
| Station Printer | Hardwired to single hub |
| IP Address | Dedicated |
| Software Functionality | 24 pre-installed apps on device. Clover App Market - access hundreds of apps from Clover and 3rd party partners. |
| Security | Fingerpring & NFC logins. Clover Security for transaction tokenization and encryption. PCI PTS 5.0 PED w/P2PE readiness. |
Clover Station Duo
Receipt Printer
Connectivity ports: Type B USB (x 1), Ethernet (x 1), Type A USB (x 4) 
USB cable 
Power brick 
Power cord 
Receipt printer paper (x 1) 
Screwdriver
Live customer service support team to help resolve any issues when setting up your device or any questions about your account.
Once your application is approved, your system should arrive in 1-2 business days.
Our simple and transparent pricing solutions is what separates us from the crowd. Enjoy competitive rates with top tier technology terminals for your peace of mind. 
Get the Clover Station Duo for your Business